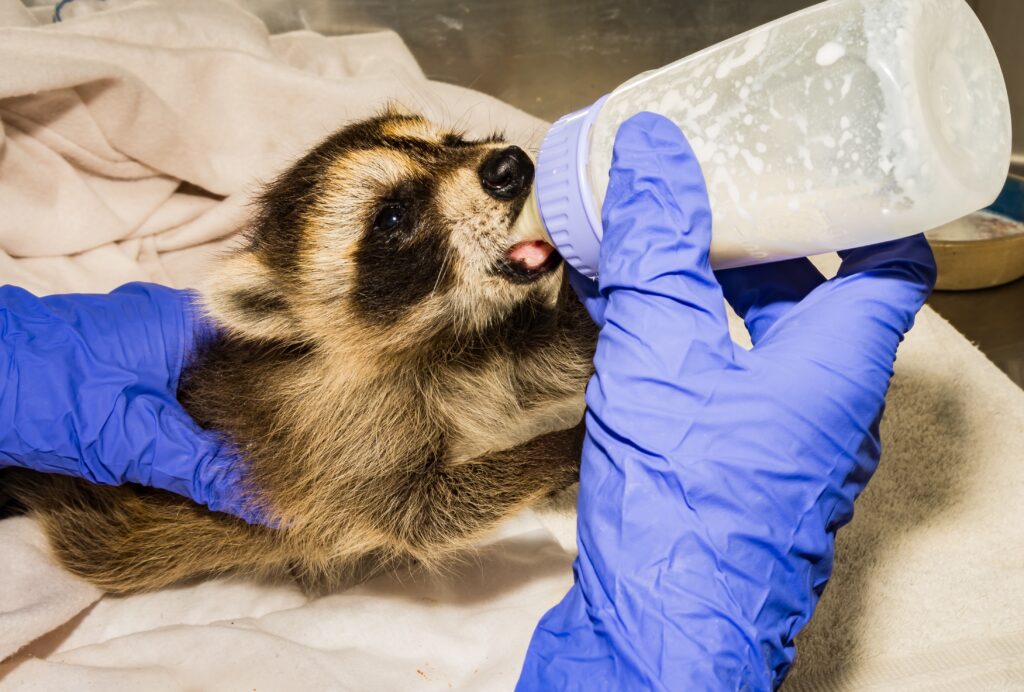 Orphaned babies are now coming in to care at the wildlife centre. Although I am concerned about there being enough staff and volunteers to care for and feed them as often as is needed, and worried about the ones turned away due to the reduced staff capacity, I am also excited.
This is the first springtime that I am fully rabies vaccinated, which means that I can care for so many more of the wild babies who come in as patients and orphans.
This week I bottle-fed tiny baby raccoons for the first time in my life – twice! Like all of the babies, they need multiple feedings per day. I was fortunate to be able to do their mid-day feeding and their early evening bottle.
They are so small – maybe the size of a really robust kitten or a small squirrel – they can sit in one hand. They are alert, curious, and want to climb on you (and everything else). You have to scruff them quite hard (harder than I am comfortable with) to hold them. It's tricky – they feel like they will slip out of your hand.
Like baby bunnies and squirrels, they need to be stimulated like their mum would, to pee and/or poo before feeding. Their formulas is warmed in baby jars, and then when in the nippled syringe (squirrels) or the small bottle (raccoons), you test it on your arm to ensure it's not too hot or too cold. Raccoon babies prefer their formula much warmer than squirrel babies.
These raccoon babies are so vocal! Very communicative, with a range of happy, scared, curious, and even a purring sound.
A nice bum scratch makes them purr and it stimulates the suckling response. The little one I was feeding did eat better with a bum rub and warmer formula. They like to have something to hang on to, so holding on to my hand or fingers worked well as he guzzled his formula.
I was also able to syringe feed another baby squirrel. The tiny babies from last week have been moved to the centre's other location, and the current group and much more like juveniles than tiny babies.
These baby squirrels are bitey and they have razor-sharp claws. I got a quiet timid scared black-furred one who just wanted to curl up inside the pillowcase I was holding it in. But still, the skin on my right hand is all sliced up (just the top layer of skin, nothing serious). He ate really well, it just took a while because I was using a small 1cc syringe and it would have been better to use a 3cc syringe.
This time last year the nursery was already full. Now there are two orphan baby raccoons, and five baby squirrels (additional squirrel babies, like the tiny one I fed last week and the group he was part of, are being cared for at the Rouge Park location).
There are also baby cottontail bunnies in care again now – about 6 of them so far. I checked on them late in the day during PM checks, but have not cared for them yet.
Another special treat of the afternoon was meeting the tiniest cutest little baby skunk!! The size of my fist – a little roly-poly beautiful black and white cutie. Staff member L described him as a little apple, he's so fat – his mama has been taking good care of him. The centre didn't keep him in care – he was returned to where he was found, so hopefully his mama can find him and keep caring for him. I've been told that it is about a month before we'd expect to see baby skunks coming in for care, so that little furball was extra special.
What joy. What a heart-filling awesome day.
Side note: N also told me that little Leontes ate on his own for the first time this past week! Yeah, Leontes!! Way to go, little guy!! She commented that the bats will come back in to care eventually, so I hope I get to see him again one day.