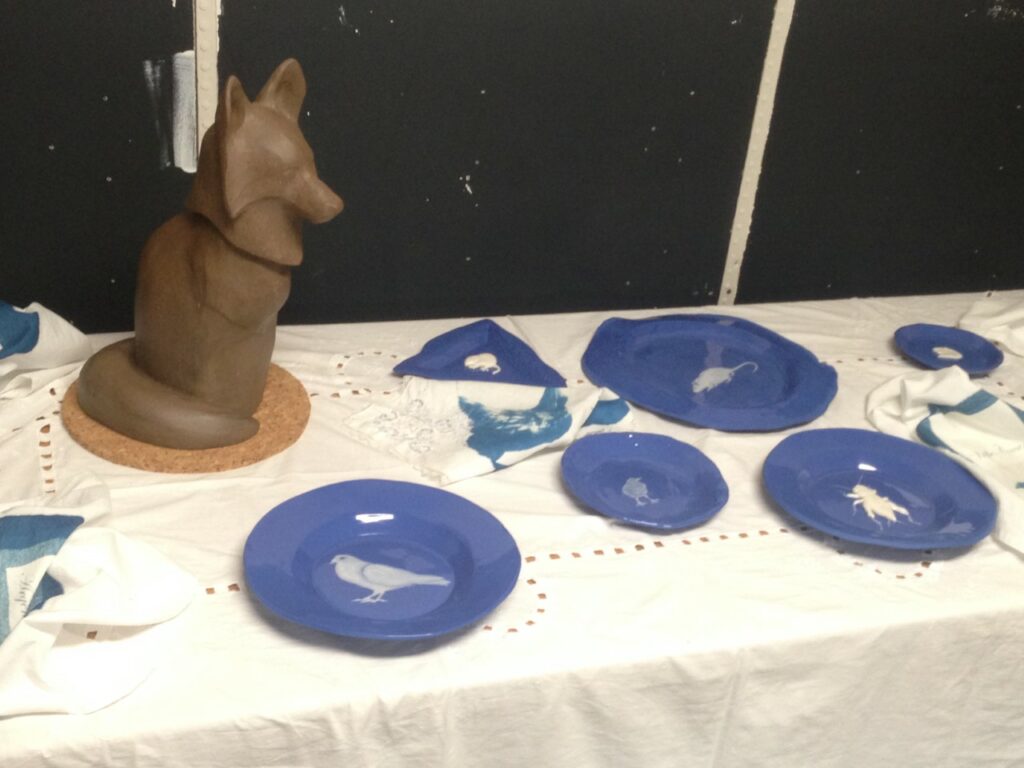 The first Mary Anne Barkhouse piece you see in the Undomesticated exhibition at the Koffler Gallery is anything but wild and undomesticated.
It's an oddly domestic scene where a wooden sculpture of a fox, with no visible legs, sits on a table that has been set with its favourite delicacies – birds, bugs, and a mouse, on platters. All placed, somewhat haphazardly, on a white tablecloth that has a ribbon of what might be interpreted as brown tracks woven into it. There are birds printed on the napkins, which are placed loosely on the table as if someone just stepped away for a moment.
The fox, on the table close to one end, overlooks the spread, unable to move. Unlike some of Barkhouse's pieces where the animal appears ready to spring into motion, in this piece, the fox appears to be both a part of the table settings as much as the guest of honour. 
Artist and sculptor Mary Anne Barkhouse is from the Kwakiutl First Nation in BC, and she now lives and works in Minden, Ontario. Barkhouse's artistic practice is deeply engaged with environmental and Indigenous issues, and evokes the influence of empire on the many human and animal inhabitants of the land we now call Canada, as the opening line of description of her previous exhibition at the Koffler Gallery states. Her work appears in numerous public spaces across the country and has been shown in many galleries, including the solo exhibition at the Koffler in 2017 guest curated by Jennifer Rudder, and more recently in the exhibition How to Breathe Forever, curated by Lisa Deanne Smith at OCAD gallery in early 2019. 
The other Barkhouse piece in Undomesticated is a chandelier; a large branch full of paper butterflies. It takes up a significant amount of space in the room and is pretty – appearing like a swarm of cream-coloured butterflies. Upon closer look, you realize that each butterfly has been stuck through with a sharp twig. Like they might have been accidentally impaled on the branch. It is both beautiful and disturbing. Although relatively colourless, the piece is based on Monarch butterfly migration to their southernmost destination in Mexico.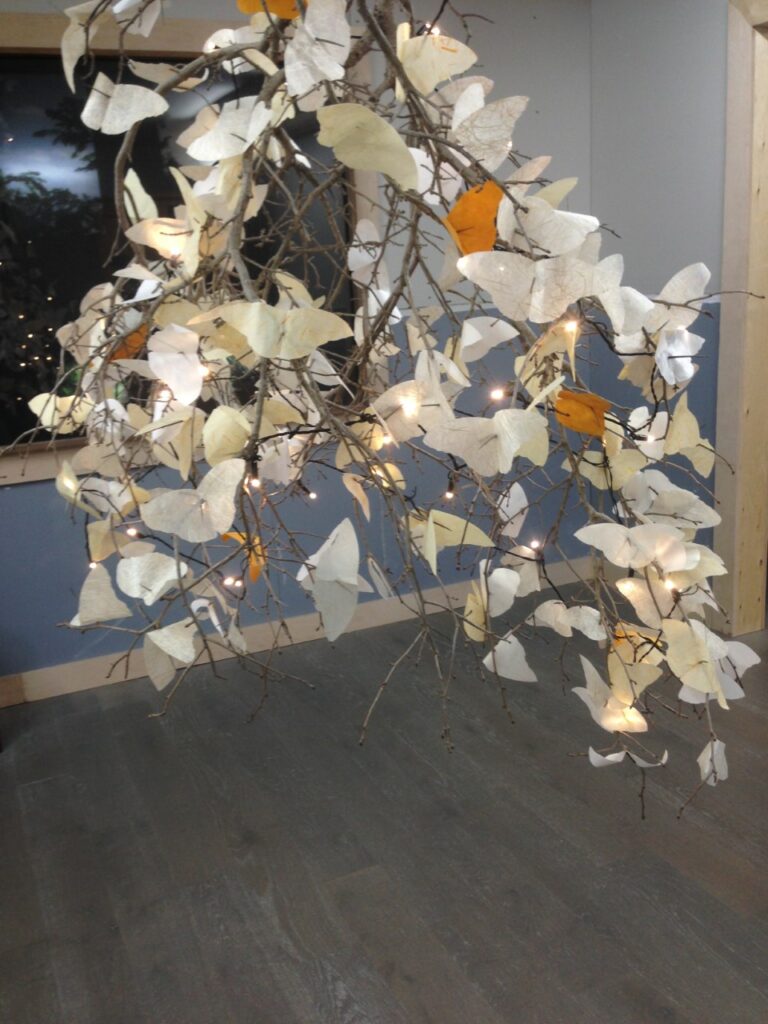 Undomesticated, curated by Mona Filip, starts in the Koffler Gallery and extends throughout the entire Artscape Youngspace building. I was fortunate to have a fantastic tour led by Francis Tomkins, with excellent support from Gabby Marcuzzi Herie. The exhibition starts with pieces in an uninhabited house structure in the Koffler Gallery, where Francis introduced the exhibition. This exhibition engages a discussion about who and what belongs in domestic spaces. The idea of changing the function of objects – things we are so used to that we don't see anymore – so we see them again in a new way, also caught my attention.
The exhibition text states, Encompassing a wide range of media, Undomesticated  transforms the everyday to reveal its hidden, unyielding strangeness.
One of the first pieces you encounter is an octagonal video installation on the floor, in what looks like a nest of branches. Hanna Claus's interlacings explores the 'interlacing' of her Indigenous and European ancestry through William Morris-esque interwoven flora imagery. Indigenous medicinal plants are what appear in Claus's work.
Throughout the exhibition, a wide range of topics address many different fascinating stories and personal histories. Francis explained the pieces thoughtfully and knowledgably. As we discussed each piece throughout the exhibition, themes of loss, power dynamics, resiliency, and repurposing, came up again and again. As well as the use of digital technologies to reimagine traditional art forms, and the humour in some of the pieces in the exhibition that are both meaningful and funny.
In discussing the Mary Ann Barkhouse pieces, Francis explained, "Humans behave as if the natural world is there just for us. We try to control and collect nature. But the natural world is resilient. And we need to think about our responsibility to it."
The exhibition's description says: Detouring the objects and settings of dwelling spaces, the exhibition addresses an underlying impossibility to fully adapt to or tame our environments in order to construct places where our bodies and psyches can seamlessly fit in.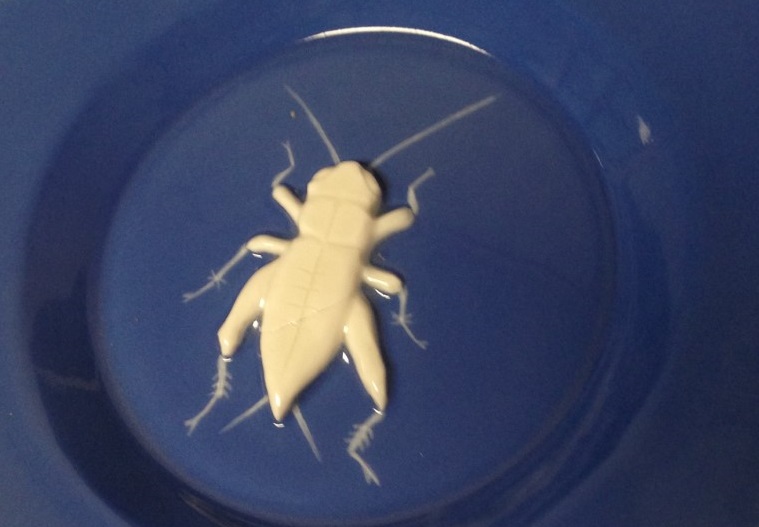 Undomesticated will be on view until November 17, 2019. Admission is free. The Koffler Gallery is located at the Artscape Youngspace at 180 Shaw Street, Toronto. 
Artists: Mary Anne Barkhouse, Gwenaël Bélanger, Katherine Boyer, Sandra Brewster, Hannah Claus, Erika DeFreitas, Julie Favreau, Nicolas Fleming, Iris Häussler, Lucy Howe, Gunilla Josephson, Lewis Kaye, Valerie Kolakis, Carmela Laganse, Heather Nicol, Dainesha Nugent-Palache, Gord Peteran, Birthe Piontek, Yannick Pouliot, Adrienne Spier, Karen Tam, Kevin Yates, Shaheer Zazai, Shellie Zhang
Curator: Mona Filip / Art Director: Nicolas Fleming