New Composition Premieres at The Royal Conservatory's 21C Music Festival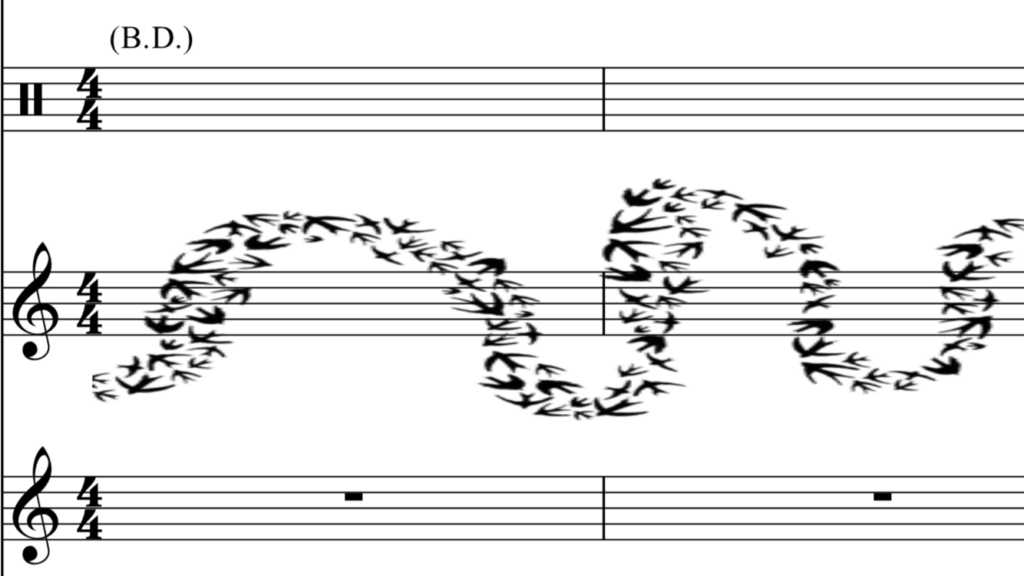 It's a relatively warm winter morning, and I'm at a downtown coffee shop with composer Bekah Simms, to talk about her new composition Bestiary I & II. It seems fitting that, just outside the large windows, hundreds of birds are swooping and swarming over the construction site on the other side of the street, and the large café, with its exposed brick walls and small wooden tables, is getting louder and louder as we chat.
The world premiere performance of Bekah Simms's Bestiary I & II will take place on Sunday, January 19, 2020. Bestiary was commissioned by, and will be performed by, The Royal Conservatory's Glenn Gould School New Music Ensemble, conducted by Brian Current. The free concert is part of The Conservatory's 21C Music Festival.
Simms has composed Bestiary I & II for amplified soprano, amplified harp soloists, chamber orchestra, and electronics. Bestiary I opens with Cosmia, named for the moths, an intro that leads into a section called Fauna. The second movement, Bestiary II, is titled Flora.
In the Fauna section of Bestiary I, birds are named by the soprano – sparrow and dove make multiple appearances, and there's a dog, grouse, and a horse. In Bestiary II a similar naming happens, this time with plants and herbs like yarrow, bulrushes, heather, and hollyhock. 
Simms's electronics are heard throughout most of the composition. I was fortunate to be able to listen a few excerpts. To me, isolated from the orchestra and harp, the electronic component sounds much like an urban city at dusk; twilight shimmering off of metallic surfaces, abstract animal or human sounds making occasional appearances. Simms confirmed that her compositions are often described as nocturnal sounding.
Bekah doesn't usually speak about her music before people hear it, but she made a generous exception for this story. She is warm, friendly, and very articulate and knowledgeable. She smiles over her cappuccino, "Everybody is experiencing these sounds completely differently. I like hearing what people heard or saw when listening to my music. … I don't want to take that way from them by telling them what I thought when I was writing it, because it's way better that they have their own thing. I think that is really important."
Bestiary I & II is inspired by Simms's favourite album when she was sixteen: Ys by harpist, singer, and composer Joanna Newsom. Newsom's recording was Simms's first exposure to composing music for orchestra and solo voice, and the lyrics include a high frequency of animal and plant references. Therefore, quoting Ys in her own original composition, Bekah's Bestiary, the majority of the soprano's text are a compendium of the myriad creatures and plant life featured in the songs of Ys, with occasional but related lyrical fragments throughout.
Simms explains, "Singer and orchestra has existed for a long time, and Joanna's album Ys is that format, but it sounds nothing like it. And then this piece [Bestiary] is a third iteration of this format, but now with electronics, so now you had this additional element, mostly sourced from instruments and Joanna's music as well, but distorted and refracted a third time. So you get this increasing distorted image of something that is recognizable, and it comes from a place of love. I love these things. But I'm interested in making them strange… making them new and fanciful."
"I have a lot of reverence for the materials that I work with. Even if I make them grotesque sometimes, it is still coming from a place of adoration. That is true for orchestral music, Joanna's music, and the animals that are quoted. I find these things interesting and I want to luxuriate in the sounds and the ideas."
"Animal life and plant life play a very strong role in the narrative of [Newsom's] music. I didn't want to use her top to bottom lyrics, so instead I pulled out what I thought was a very crucial part of the character of her pieces – which is the inclusion of so many different and disparately related animals. I included as many as I could. As the piece progresses, it uses different musical cues that are from each of the songs. She has a particular interest in flying animals, mostly birds, and sparrow particularly comes up many times. Sparrow is the first word that the soprano sings.
"I see the instrumentalists as each having a stratified purpose or role in this greater sonic ecosystem or environment. In particular, in the second movement almost none of the instruments are making their normal instrument sounds."
"I didn't want this piece to be a zoological study of animal sounds – it's more abstracted than that. But I did use a little bit of actual animal call in the electronics. Just with birds because they are already very musical. I didn't want to take us out of the musical moment. The sense that we're in a different sonic space for a little while. But I used a bit of recording from Sawmill Creek Trail, a really active ecosystem out in Mississauga." Simms has been making trips to schools as a music educator and composer, and a Sawmill Creek Trail sound walk recording she did with students has come in handy.
In the middle of the score, there's a beautiful line where the electronic music notation is a bird murmuration swarming in and out of the lines of the staff. Bekah tells me about that moment in the composition: "All of the instruments clear the acoustic space and all that's left are the bird calls. There's a duet between the soprano and the bird calls, but the soprano is secondary … it's removing that heirarchy between human and animal, so you have move of the birds, less of the human. And then granulated bird flaps, which is the human element of processing or changing that environment, clears the way to the sounds of the creek where I recorded the bird sounds. That is the one moment in the middle of the piece where [animal and nature sounds] are more literal, but that is the only moment when that happens."
"I titled the piece, as a Bestiary, looking back at those original bestiaries from the medieval ages – they are really colourful, and fanciful, and a little obscure. Some of the descriptions of animals and the drawings of these animals are done by people who had never seen them. So you are looking at this abstracted, kind of alien version of something, that is very well meaning but it's a little off, a little bit strange. And because of that, it becomes almost mystical and mythological even though they are describing real plant life, real animals. A lot of the sounds in this piece are somewhat similar. You recognize those instruments, but the sounds they are creating, the shapes they're creating, the form they're creating, they're through a filter or through a haze or through a fog, so they're not quite the version that you're familiar with. They are a little more obscure, but still fanciful and colourful."
Bekah Simms was nominated for a Juno Award in 2019, in the Classical Composition of the Year category. Originally from St. John's, Newfoundland, and now Toronto-based, Simms' music has been widely broadcast in Canada and the United States, and performed across Canada, in over a dozen American states, Italy, Germany, Austria, Lithuania, and the UK.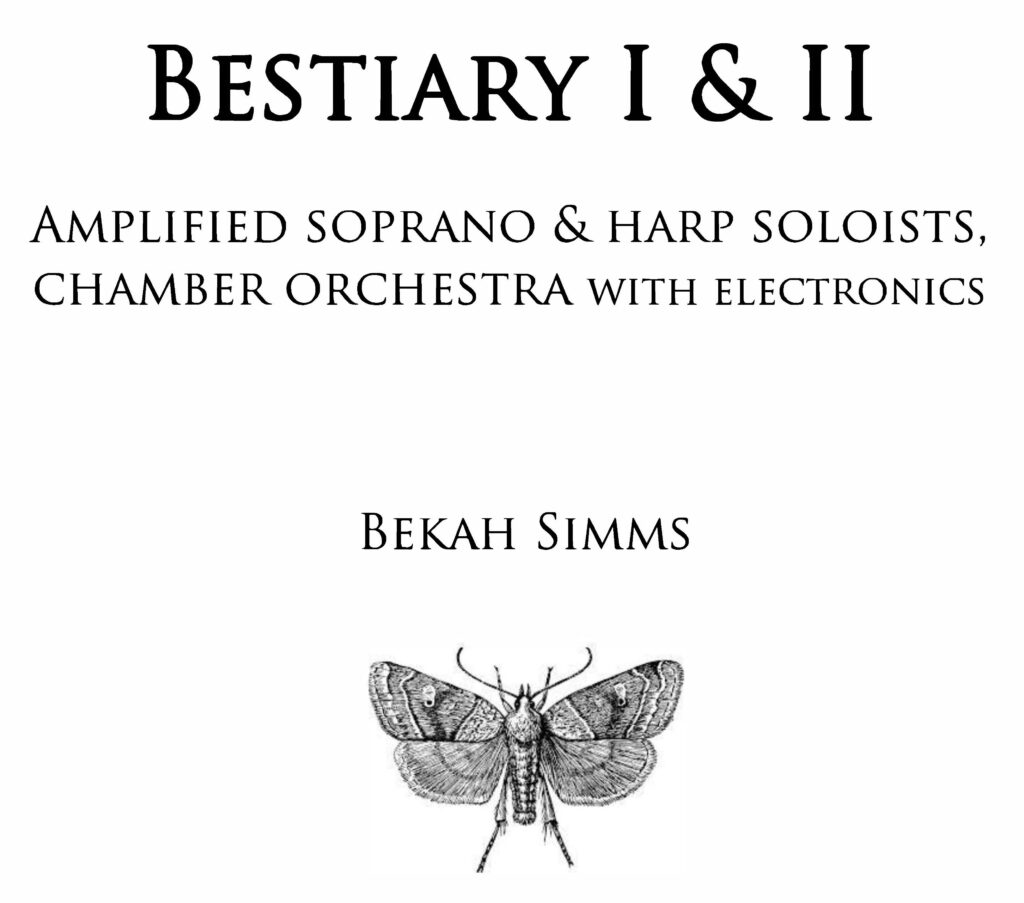 Bestiary I & II was commissioned by the New Music Ensemble of The Royal Conservatory of Music's Glenn Gould School, Brian Current, Music Director. The piece is approximately 11 minutes.
The world premiere performance of Bestiary I & II takes place Sunday, January 19, 2020, as part of The Royal Conservatory's 21C Music Festival. The Conservatory's Glenn Gould School New Music Ensemble, conducted by Brian Current, will perform the world premiere of Bekah Simms's Bestiary I & II, Gabriel Dharmoo's the fog in our poise, Michael Colgrass's Hammer and Bow, and the North American premiere of Miguel Azguime's Aguas Marinhas. The concert is at 1pm in Mazzoleni Concert Hall. Tickets are free, and will be available starting January 13, by calling 416.408.0208.
More information about Bekah Simms is at www.bekahsimms.com
More information about the 21C Music Festival is at www.rcmusic.com/21C