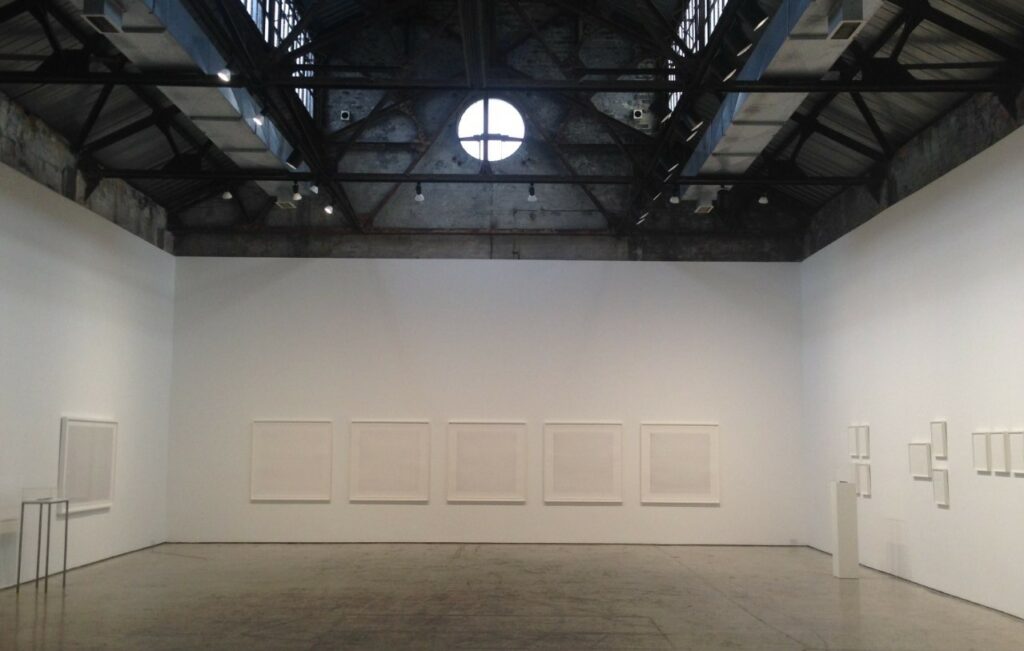 "This is a Dusty original…" is the first thing I hear as I walk into the Olga Korper Gallery. To my left, artist Ken Nicol is beside a piece of artwork, and speaking to a group of thirty-somethings. He takes the piece of art by its white frame and lifts it off the gallery wall.
He shows the group the back of the frame, "….and this is Dusty." It's a photo of a black squirrel with fluffy orange tail, holding her half eaten almond, looking directly at the camera.
This exhibition, the laughter between two miles, is a Ken Nicol exhibition "with special guest Dusty the squirrel." There is a series of three of Dusty's art pieces in the middle of the largest wall in the exhibition. And there is this stand-alone piece near the entrance.
Ken's work is precise, pattern-based, and, to me, irresistibly captivating. Words, weaves, lines – all patterns. Each with an interesting backstory or concept. There is a lot of containment. Like index card forms in a page, and teeny boxes in tiny boxes. He also plays with the idea of a "line" with grid lines, lines of text, lines representing distance, and referencing the line "no ifs, ands, or buts" in a hilarious piece where he has connected all of the ifs, ands, and buts in the text with straight lines.
One of the enthralling aspects of his work is the visible variations. The same but different. Being able to see a weave get smaller and tighter. Lines getting lighter or darker using different hardness of pencil lead. And in one of the series, Sol Lewitt sentences on conceptual art are numbered and typed on a page. A grid of four pages is created with the typed page plus three other pages of what looks like the exact same typing backward and upside down – but those pages are actually hand-rendered. Represented by Olga Korper Gallery, his work has been purchased by the Art Gallery of Ontario, and has been shown in exhibitions in Toronto, Hamilton, and New York.
Dusty's art is more minimal, though she uses an understated colour palette similar to Ken's. Her subtle paw gestures are very in the moment and a little unruly. She leaves whitespace around the markings, appearing deliberate in her movements yet aware of the element of chance in the creation of her work.
Now, full disclosure: I'm not an expert on professional squirrel art. I've worked on fine craft, visual art, and photography exhibitions, as well as performing arts for many years. But I am not qualified to assess squirrel art. So with that in mind, I will just tell you my personal reaction:
I love Dusty's work. It encapsulates the speed of squirrel life. It appears to be a meditation on and celebration of being one's true self. And it seems to address the idea of evidence of each individual's existence.
In front of Dusty's three mid-sized art pieces in the middle of the gallery, Director Shelli Cassidy-McIntosh said, "Ken had these papers ready to roll for something bigger, and Dusty had other plans … so Dusty gets a cameo in the show."
"I have squirrel friends." Ken told me as he showed me a video of a sweet black squirrel who he met on the street. I can relate, as can many other Torontonians.
"There's Deedee, Mimi, the original window squirrel, Gerald…" There are so many, he doesn't call all of them by name anymore. They come to his shop window, and he lets them in, feeds them almonds. Some of them make art on his prepared paper.
His squirrel pals (at least the most talented and ambitious artists among them), are fortunate to have befriended an artist who is opening art world doors (and windows) for them.
Ken showed me a brilliant video of Gregory squirrel in his studio, black furry body flying through the air toward the camera. It's amazing. And in a photo of DeeDee, a grey squirrel, she looks very happy and comfortable posing on a beam in the studio.
I asked Ken if it freaks him out to have squirrel chaos in his studio. He answered by explaining his three-part Francis Bacon piece on the wall to the right of the gallery entrance.
Ken asked me if I knew anything about Francis Bacon's studio. I said no. He explained that Bacon's studio was a disaster. A total mess. The work of Ken's on the wall here is a quote from Francis Bacon that says: "you can see an advertisement, you can see something lying in the street, anything can stimulate and excite you into wanting to do something it doesn't have to be a great or remarkable thing it could just be lying on the floor " francis bacon
The quote is on three pieces of paper, each framed. "This piece I had in my pocket for a year." That version is in a grid pattern of small rectangles, some that fell apart along the fold lines. "And this piece I had in my bag for a year." The middle piece is ragged around the edges. "And then this piece I had in my shop for a year, but I was kinda disappointed that nothing happened to it." The final piece looked perfect. No marks or damage whatsoever.
On the other side of the entrance, the piece I saw first as I arrived was created by Dusty on March 18, 2019. As Ken put it on his wonderful blog every3point65, "…there was an incident… dusty hopped in through my window and kinda freaked herself out then bombed around my studio like a jerk. She put a couple footprints on my next mile. Luckily I had only put down the grid, but that takes most of a day and I had to start again. …"
Ken Nicol's work in the exhibition was selling for $3,500 – $40,000. Dusty's pieces are priced at $1,200.
the laughter between two miles exhibition ended on November 16. But I believe that Olga Korper Gallery now represents them both.
The Olga Korper Gallery can be visited online at olgakorpergallery.com or in person at 17 Morrow Avenue, Toronto.
Ken Nicol's work and blog can be found at k-nicol.com
Keep an eye out for a Dusty the squirrel artist website in the future.