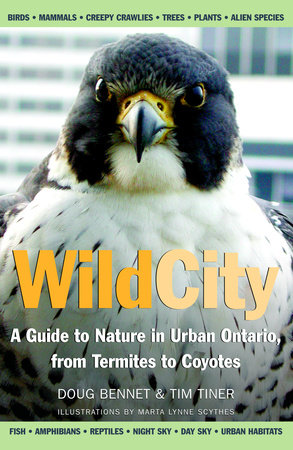 I was fortunate to meet Doug Bennet recently, thanks to a serendipitous listserv error. Doug and his writing partner, Tim Tiner, have authored five books together, including the popular series, Up North, Up North Again, and The Complete Up North: A Guide to Ontario's Wilderness from Black Flies to the Northern Lights.
Plus another one that caught my eye: their wonderful 2003 book, Wild City – A Guide To Nature In Urban Ontario, from Termites to Coyotes.
Wild City is more entertaining than a field guide and more concisely informative than an online search. It has encyclopedic fun facts, fascinating history, and thorough descriptions, all written in a wonderfully irreverent style. Not over the top, but humour and everyday language delivered through short story vignettes that make each section a fun read.
The section on Bees, Wasps, and Hornets, is subtitled "Societies with Heavily Armed Females," and the first line reads: "Generally considered armed and dangerous, even when they keep to themselves, bees, wasps, and hornets are generally the most feared of the city's diminutive habitants."
The section about Raccoons, "Icons of Urban Nightlife," starts like this: "The iconographic face of urban wildlife in Ontario wears a black mask and appears when the sun goes down, calmly tripping the light fantastic along thick telephone cables above patio barbecue parties, even in dense downtown neighbourhoods."
Obviously thoroughly researched, Wild City offers around 1 – 4 pages per species, each with an illustration. There are birds, creepie-crawlies, fish, mammals, reptiles & amphibians, and sections for plants, trees, the day sky, and the night sky.   
I first borrowed a copy from the Toronto Public Library, loved it, and ordered my own copy to keep for both reference and enjoyment. Everyone who is interested in urban wildlife (and more) should have a copy of Wild City in their home library.